UP COMING JULY SALES PROMOTION 1st July – 31 July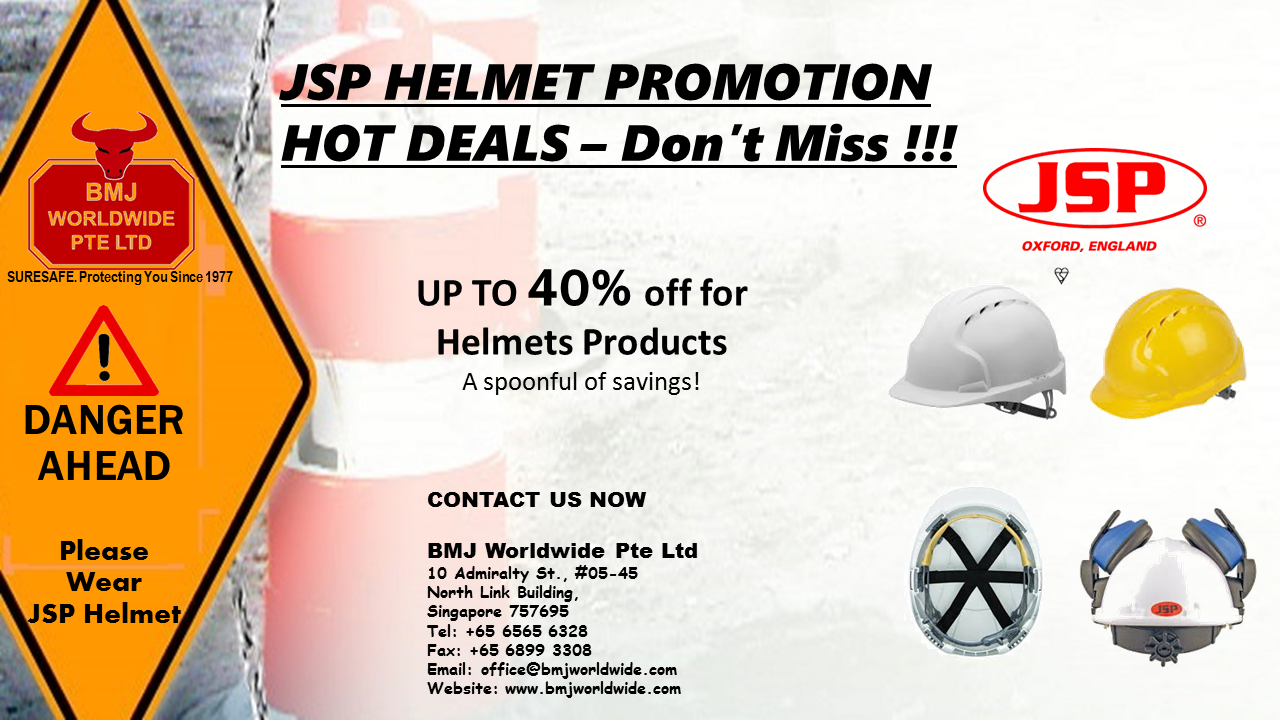 EVO3™ Vented, Standard Peak, Revolution™ Wheel Ratchet & 3D Adjustment System (EN397) – PSB Approved
The EVO3™ Comfort Plus™ helmet combines a super strong shell for superior all day protection in the widest range of environments, with the comfort benefits of the new Evolution 3D Adjustment™ harness system. EVO3™ is a true evolution of the long established Mk2™ and Mk3™ helmets, which were first launched in the 1970s, the EVO3™ retains the JSP signature styling while incorporating developments first seen in the EVO8™. Packed full of the latest protection technology and features such as the Evolution 3D Adjustment™ harness system, Revolution™ Wheel Ratchet.
Tough HDPE shell In tests the EVO3™ proved far tougher than the EN397 standard required and far tougher than any of its competitors.
Supreme Comfort A 6-point terylene cradle harness system offers unrivalled comfort without compromising performance.
Chamlon™ Sweatband Egyptian cotton core with porous PU coating for maximum sweat absorption. PH neutral, dermatologically tested.
3D Precision Fitting Never before has such a precise fit been attainable on an industrial safety helmet, using the unique 1-2-3 point harness depth settings.
Adjustment Revolution™ Wheel Ratchet.
Ventilation Side and rear ventilation for optimum air movement inside the shell, reducing helmet temperatures by an average 2-3°C.
Evospec™ The helmet with integral visor ensures that eye protection is on hand when needed and never lost, whilst removing the need for additional eye protection. Protects to EN166.1.F
Universal Slots Enables firm fitting of a range of Surefit™ safety visors and ear defenders.
http://bmjworldwide.com/wp-content/uploads/2012/01/event_banner.png
720
1280
smugsg_1154gyz7
https://bmjworldwide.com/wp-content/uploads/2016/07/BMJ-LOGO1-300x266.png
smugsg_1154gyz7
2012-01-14 13:13:53
2022-03-10 00:54:37
UP COMING JULY SALES PROMOTION 1st July – 31 July